Attractions and Historical Sites
When visiting towns in Butler or Grundy counties, there is always plenty to do! Check out some of the historic, nature, and entertainment sites the Cedar Valley has to offer.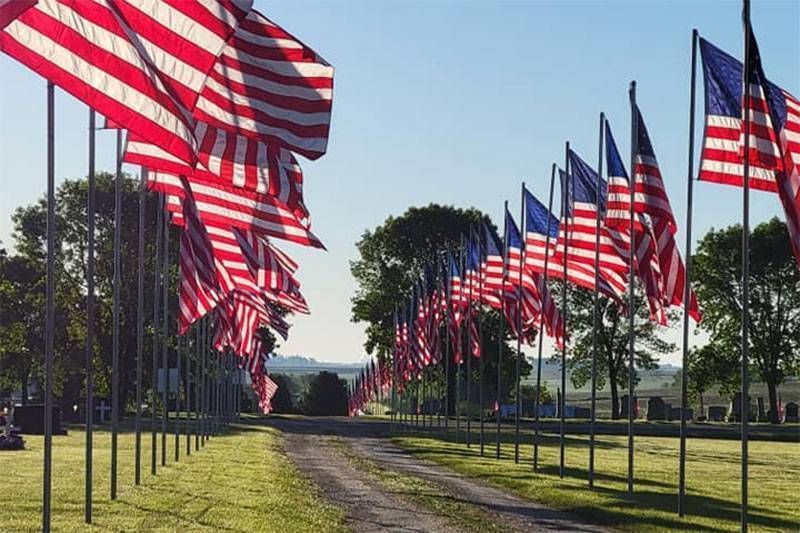 Butler County Attractions
All-Play Ball Park
Parkersburg, IA
This is Cedar Valley's first all-inclusive sports complex where youth of all abilities can participate side-by-side as they develop and grow. The crown jewel of the Parkersburg Complex is the Miracle League field, an all-weather surface diamond that serves multiple purposes. Most importantly, it is the home of the Miracle League of the Cedar Valley. The complex also includes 3 soccer fields for different age groups, 3 regulation little league diamonds, and 1 regulation senior league baseball diamond.
All Veterans Memorial
Allison, IA
Their duty was to serve; our duty is to remember. The All Veterans Monument is a tribute to all veterans, no matter where they call home. Family and friends of veterans have honored past or present members of the military with their name and branch of service on the pentagonal obelisk in the center of the monument field. A fallen service member who died while serving is honored with a star beside their name. On November 11, 2017, the monument was dedicated with a total of 760 engraved names. In September of 2018, an additional 57 names were added. An application for adding a veteran's name may be obtained from the Allison City Hall for an engraving fee of $100. The following parameters have been set to use as a guideline to have a name engraved on the monument. You must have served, or are currently serving in the military as active military personnel. National Guard or Reserves are eligible.
Learn More
Aplington Historical Society
Aplington, IA
This relatively new organization strives to preserve the rich heritage of Aplington and the surrounding area. Started in 2006, this non-profit organization houses their collection of artifacts and memorabilia in the only building in the community to survive a devastating fire in 1901. The organization's collection includes historical pieces from the former Aplington School, advertising items from past businesses, records from past and present civic groups and churches, and more to keep the heritage of the community preserved for future generations. The historical society also houses the records of the former DeBuhr Maternity Home that was located in Aplington. The organization meets monthly while the facility is open by appointment only or during special events.
Learn More
Austinville Historical Society
Austinville, IA
The society is located in the old Austinville Bank which was founded in 1911 through the leadership of Samuel L. Patterson, Walter G. Austin, and Richard C. Bode. The bank building was built around 1916. This is the one remaining structure of the original main street businesses from that time and is one of the few banks that stayed open during the depression. Displays consist of early Austinville items from the local businesses as well as an extensive inventory of histories, pictures, and written items to be read or viewed at the historical society.
There is usually a gathering of locals for coffee each Tuesday from 9am-10am for reminiscing and current local news. Feel free to drop by for coffee and conversation.
Other times to view items are by appointment. Call L.J. Bolhuis at (319) 240-1230 or Carolyn DeVries at (319) 347-2983 to set up a time to visit.
Learn More
Butler County Freedom Rock
Greene, IA
The Iowa Freedom Rock tour was started to spread the message of thanking our veterans while providing a unique tourist attraction in all of Iowa's ninety nine counties. The rock is located in a small park-like setting, adjacent to the Shell Rock River in downtown Greene. The rock was most recently painted by Ray "Bubba" Sorenson in 2016.
Learn More
Butler County Hall of Fame
Allison, IA - Couthouse Square
The Hall of Fame is housed in a structure that is topped off with the old cupola that was removed from the Butler County Courthouse that was built in 1881, and torn down in 1975. The dome is 18 feet in diameter, 30 feet tall, and weights approximately 7,000 pounds. Inside, you will find photos of county residents who have been inducted into the hall of fame over the years. Also on display are military artifacts dating back to the War of 1812 that were donated by county residents and their families who served in the military. Visitors are welcome. Appointments are required by calling (319) 885-6279.
Butler County Museum
Allison, IA - Butler County Fairgrounds
The museum contains numerous exhibits ranging from children's toys, medical equipment, hand tools, and a wedding gown and suit worn by a couple that was married at the county fair in 1935. Other artifacts include the first folding ironing board, various farming tools and equipment, and artifacts relating to life in Butler County in years past. The Butler County Museum is open during the fair and also by appointment. Call (319) 885-6279 for more information.
The City of Gardens
New Hartford, IA
The city of New Hartford has ten amazing parks and newly created public gardens. These gardens include:
Community Garden
Family Park
Four Seasons Perennial Garden
Fruit Tree Orchard
Heritage Garden
Log Cabin Learning Center
Meditation Garden
Packwaukee Park
Town Square Gazebo Garden
Veteran's Memorial Garden
Self-guided tour maps are available at each garden and outside of City Hall. Private tours can also be arranged. All gardens and facilities are handicap accessible and restrooms are available. For more information, call (319) 983-2548.
Community Bowl
Dumont, IA
This six-lane community bowling center offers men's, women's, mixed leagues, and open bowling. A snack bar with pizza is also available, and a new full-service restaurant became available in 2020. View hours and more information on their website.
Learn More
Clarksville Popcorn Stand
Clarksville, IA
A tradition for over 50 years, this popcorn stand has welcomed generations to downtown on weekend evenings. A new stand was built in 2013 at a new location in Pioneer Park at the center of downtown Clarksville. The popcorn stand is open Saturday and Sunday evenings from Memorial Day through Labor Day from 6-8:30pm. The stand is operated by volunteers with proceeds benefiting community projects.
Learn More
Depot Park
Parkersburg, IA
The Depot Park historical site is located on the north side of town. Parkersburg's old Train Station still stands complete with an old-time caboose from a passenger train. The park also boasts a shelter house, playground equipment, restrooms, and plenty of area to fish in Beaver Creek.
Learn More
Dumont Popcorn Stand
Dumont, IA
Enjoy some popcorn at this Main Street attraction open May through August. Hours are Wednesday and Saturday 6:30-9pm.
Learn More
Freeze Frame Bowl
Greene, IA
This newly remodeled six lane community bowling center offers men's, women's, mixed leagues, open bowling, and cosmic bowling. You will also find a full-service restaurant, arcade games, and billiards. Visit their website for more information and hours!
Learn More
Heery Woods Nature Center
Clarksville, IA
Built in 1988, Heery Woods Nature Center serves as the center for environmental and outdoor recreation programming offered by the Butler County Conservation Board. It is designed around the theme "This is Your Heritage". Center visitors can learn about natural, cultural, and local history through visual and hands-on exhibits. Exhibits on prairies, wetlands, and forests help visitors learn about the natural world around them. You can also learn about cultural and local history through exhibits on Native American artifacts and park history. Outside, park visitors can learn more about the park and the natural world on one of two self-guided interpretive trails and through interpretive signs placed around the park.
Programs for schools, youth, and special interest groups are offered by appointment and general public programs are offered on a regular basis. Public programs are advertised via local newspapers, the Butler County Conservation Board Facebook page, and on www.mycountyparks.com. You can also sign up for the program and newsletter email list by sending a request here. Two programs, the October Halloween Hike and January Lighted Night Ski, are annual events.
Learn More
Historical Log Cabin
Allison, IA - Butler County Fairgrounds
Built in the 1850s, this was originally a two-story log cabin and served as a stagecoach stop between Waterloo and Mason City in Coldwater Township southwest of the town of Greene. The cabin also served as the first hotel in Greene. Many of the logs are black walnut and were found to be firmly mortised into the adjoining log. In 1960, the log cabin was turned over to the Butler County Historical Society. You can visit it during the annual Butler County Fair, or by appointment by calling (319) 885-6279.
Little Yellow School House
Allison, IA - Courthouse Square
Built in 1888, this one-room schoolhouse served the educational needs of section three in Pittsford Township near the town of Aredale until 1957. The building was relocated to the courthouse square in Allison and was the first attraction of the Butler County Historical Society. Volunteer retired school teachers help educate current school children from around the county on what it would have been like to get their education in a one-room school. The school is outfitted with sleigh desks and other props from the era when it was used. Visitors are welcome. Appointments are required by calling (319) 885-6279.
Little Valley Church
Bristow, IA
This church is said to be the smallest in Iowa measuring at just six feet by eight feet and ten feet tall, not including the steeple. Inside, you will find four small pews that seat four adults, an altar, and yes, room to stand up! It was originally constructed in 1972 and located in Allison. The small church has hosted visitors from over 40 states. Owner, Sally Schneiderman, loves to have visitors to the church and adjacent flower gardens. Open by request only. Call (319) 429-6536 for information.
New Day Dairy
Clarksville, IA
See "Rita the Robot" milking cows on a 5th generation family dairy farm! Experience a modern working dairy farm: pet the baby calves, smell what the cows eat, see Rita at work, and hear about what happens after the milk leaves the farm.
If you are ready for a challenge, become a dairy farmer and ride in the tractor, bottle feed the calves, get in among the cows and scrape manure, and peek under Rita the Robot's hood! Plus, you'll get an exclusive t-shirt to prove you completed the challenge.
Also, enjoy authentic cows and comfy beds waiting for you at the new Guest Barn Bed & Breakfast! Two large loft windows overlook the 120 cows. You'll be fascinated by following one of the painted cows and her life in the barn as you gaze out the windows during your stay. Plus, get up close to the cows and calves on your introductory and farewell barn tours. No one else at the office will be able to say they slept in a barn on their vacation! Tours are by appointment only.
Learn More
New Hartford Motorcycle Racing
New Hartford, IA
This flat track and MX motorcycle racing facility holds regular racing events throughout the summer with areas for camping available. Call (319) 885-6469 or visit their website for additional information.
Learn More
Northeast Iowa Christian Service Camp
Bristow, IA
Located one mile west of Bristow, this 30-acre scenic getaway is bordered by Boylan Creek and the Rolling Prairie Bike Trail. The park-like setting offers two seven-person cabins, a single gender dorm with an 80-person capacity, and a dual gender dorm with 100-person capacity. You will also find a chapel, kitchen, dining hall, and multi-purpose building. Recreational facilities include disc golf, miniature golf, 9-square, gaga ball, volleyball, and a water slide. Camping facilities include RV hookups, freshwater, and dump. The facility is available for private rentals from mid-August through May.
Learn More
Parkersburg Historical Home
Parkersburg, IA
The Parkersburg Historical Home was built in 1895. Visitors will enjoy the wide variety of woodwork in each room as well as many artifacts of local history. The home features a circular tower that provides a panoramic view of the surrounding area. It is open Sunday afternoons from 1-4pm from Memorial Day through Labor Day and by appointment.
Learn More
Pickle Ball Courts
Parkersburg, IA
New to Parkersburg are brand new pickleball courts. There are four courts which are free and open to the public. If you have never played, Pickleball is a paddleball sport (like a racquet sport) that combines elements of badminton, table tennis, and tennis.
Learn More
Schwartz Memorial Park
New Hartford, IA
Schwartz Memorial Park is a new park on the east end of town. Located on Newell Avenue, the park has new playground equipment, a gazebo, a walking path, and a pond for fishing.
Shell Rock Historical Museum
Shell Rock, IA
Visit this 1920's craftsman-style house that is home to a large display of memorabilia from Shell Rock's history. THere is an original garage on site which is unusual for this style of house. A railroad room and a school room are part of the museum's permanent exhibits. Visitors can also view rotating exhibits throughout the year. Open Saturdays from 10am-12pm and other times by appointment.
Learn More
Trains on the Farm Railroad Tours
Clarksville, IA
Personal guided tours of several railroad sites throughout the area, including the operational Iowa Northern Railway, make this attraction one to add to your list. Go behind the scenes and view railroad cars, an engine, a caboose, and more. Plus, see the Rock Island museum, layouts, and displays all on a farm! By appointment only
Learn More
Grundy County Attractions
The Grundy County Heritage Center
Morrison, IA
The Heritage Center is the hub of Grundy County history, and those who love the past will find everything dating back to the time of Native Americans in the county to the present. The center recently added a 1900s-era barn and house. The interpretive exhibit, "From Grassland to Granaries," shows the evolution of Grundy County from its native prairie habitat to the modern row crop farmland.
The Wells Hotel Museum
Wellsburg, IA
The Wells Hotel Museum features artifacts and memorabilia from Wellsburg's past. The museum is open June through August on Saturdays from 1:00 P.M. to 4:00 P.M.
Wolf Creek Recreation Area
Beaman, IA
This is a 93-acre multi-purpose recreation area with Bur Oak forested areas and reconstructed prairie areas. Facilities available include a shelter house, picnic tables, grills, and a modern shower/restroom building. The park is connected to the Comet trail, a crushed limestone-surfaced recreational trail with a 60-foot suspension bridge. The Comet Trail connects the towns of Beaman, Conrad, and Gladbrook.
Center Theatre
Grundy Center, IA
Historic Art-Deco era movie theater in the heart of downtown Grundy Center. Theater options include two screens with current 2D & 3D movies. Open Friday through Tuesday with nightly shows.
The Conrad Heritage Hall and Museum
Conrad, IA
The Conrad Heritage Hall and Museum, located inside of city hall, is a shrine to the history of the community and contains a host of local artifacts and rotating exhibits.
THerbert Quick Schoolhouse
Grundy Center, IA
The Iowa author Herbert Quick (author of Vandemark's Folly and The Invisible Woman) received his early education within this one room schoolhouse. Originally located in Colfax Township, the schoolhouse was relocated in 1933 to its current place within Orion Park
Beaman Heritage Center
Beaman, IA
Located within Beaman Library, the Heritage Center pays tribute to local artifacts and stories of the residents of Beaman.
Grundy Center Archery Range
Grundy Center, IA
Located at Mills Street and 6th Street in Grundy Center. Permits are required and can be purchased from City Hall for $10 an individual or $20 a family.
Stout Astrodome
Stout, IA
Locally operated softball diamond that hosts a variety of adult and youth leagues. Throughout the summer, outdoor movies are shown weekly for the whole family to enjoy.
Download a Visitor Guide
For more information on all things Cedar Valley, feel free to download our Butler County or Grundy County visitor guides!
Download Butler County brochure
Download Grundy County brochure